WCEU 2016 was a Blast!
Held at the Museums Quartier in Vienna, WCEU 2016 weekend of 24-26 June was incredible!
Thanks to the amazing organizers, volunteers, speakers, sponsors and attendees, WCEU 2016 was made possible.

With over 2,000 attendees from different countries, WCEU is ultimately diverse.
We speak hundreds of languages, but we all speak WordPress.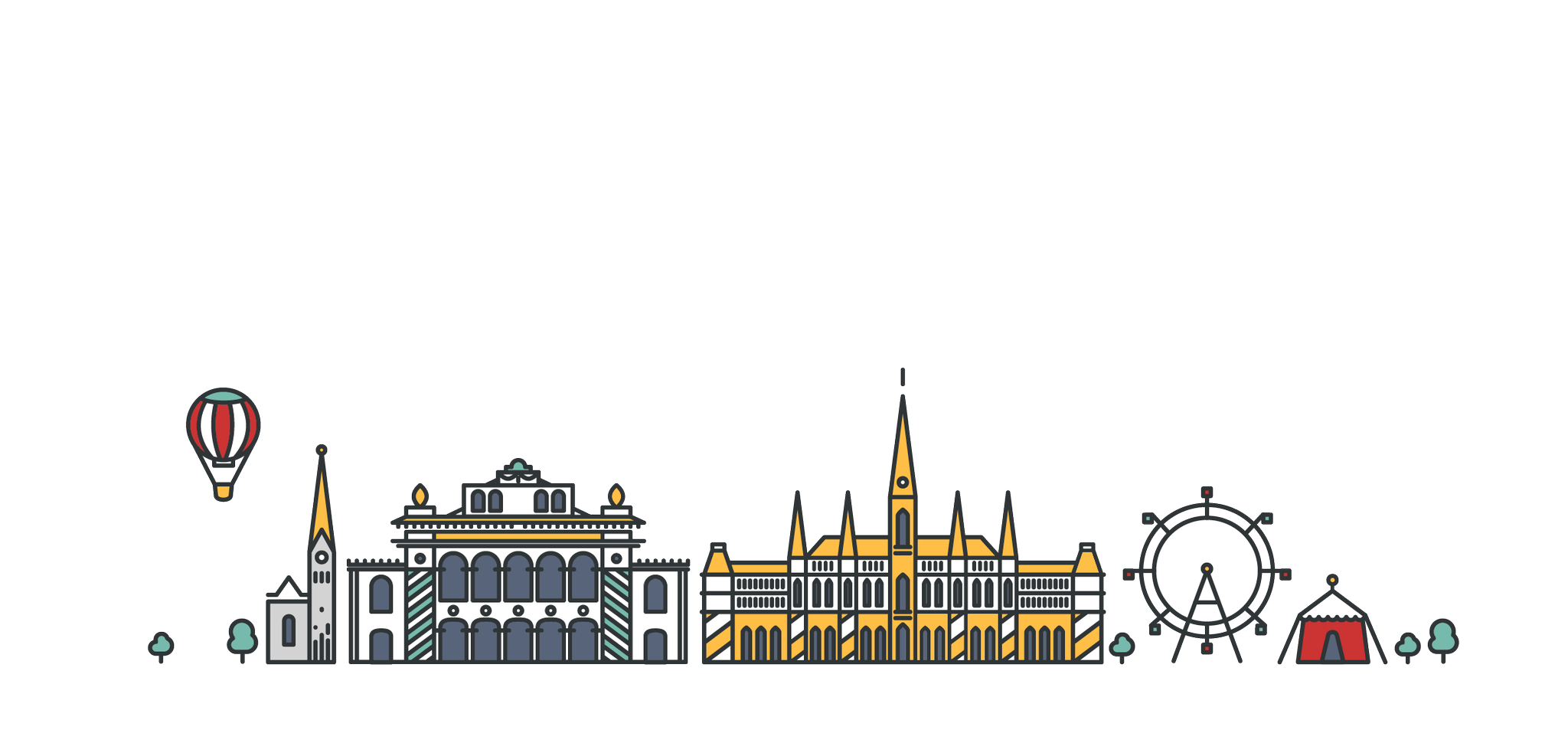 There were 73 speakers from around the world that covered topics about design, themes, business, best practices & tips, security, marketing, community building, mental and overall health and panel discussion.
Matt Mullenweg Interview and Q&A Highlights


Matt Mullenweg was interviewed on stage by Brian Krogsgard on how his day-to-day activities look like, JavaScript and his vision for WordPress. 
Because Matt wears many hats, he cannot predict what can happen from day-to-day, but there are things that may need his attention like Automattic, the Foundation, WordPress Core and behind the scenes. A third of his time is spent on hiring people, a third is spent on products and another 3rd is on whatever the fire of the day is. 
Matt's advise on Burnout, Hobbies and Self-awareness
Activities, pressure are among other things that can cause burnout. So how does a CEO of a large enterprise deal with it?
Matt does not believe in the term "work-life balance". He thinks that we should try to harmonise and find three hobbies: one that makes you money, another to keep you in shape, and one that feeds you creatively.
"As long as you are cognisant and self-aware, you can avoid burnout just by knowing where your energy levels are everyday."
The WordPress Interface
"The way the interface of WordPress is written is not going to be what most people use to publish in 10 years. Now whether they use WordPress to publish in 10 years or not depends on if over that time we're able to adapt and evolve the way that we do things and the way that we write to be the thing that people are going to use."

"When I think of WordPress, I think in decades. Over the next five years, every developer in this room is going to need to learn JavaScript deeply. The thing that people interact with is going to be more of an application model than a document model. A bunch of .php files we have in wp-admin that's just not going to be how most people interact or publish. What that looks like, beyond that, we need to figure out and we need to create."
WordPress Vision
WordPress is 13 years old. This is the time when WordPress has to decide what it wants to be when it grows up. So what is Matt's Vision for WordPress?
"The thing I keep on coming back and it's a little cheesy and little abstract is but WordPress can be an OS not just for the web, but for the open web. One thing I love about as we grow and as we become successful, and gain more that market share is that we shift the web to be more open. Just by a dense of the things built on WordPress, the API, themes."

"'Be the change you want to see in the world.' With WordPress each of us has the ability to create our own vision of how we want the web to be. The web you want your children to have and that's why we should and must think about things as multi-decade endeavour. I think we have the opportunity to create software that is around in 50 years, 100 years. In a way that's completely unrecognisable to us now but that is a force for good and openness on the web and in the world because the web becomes the world."
Sponsor booths, Halls and Activities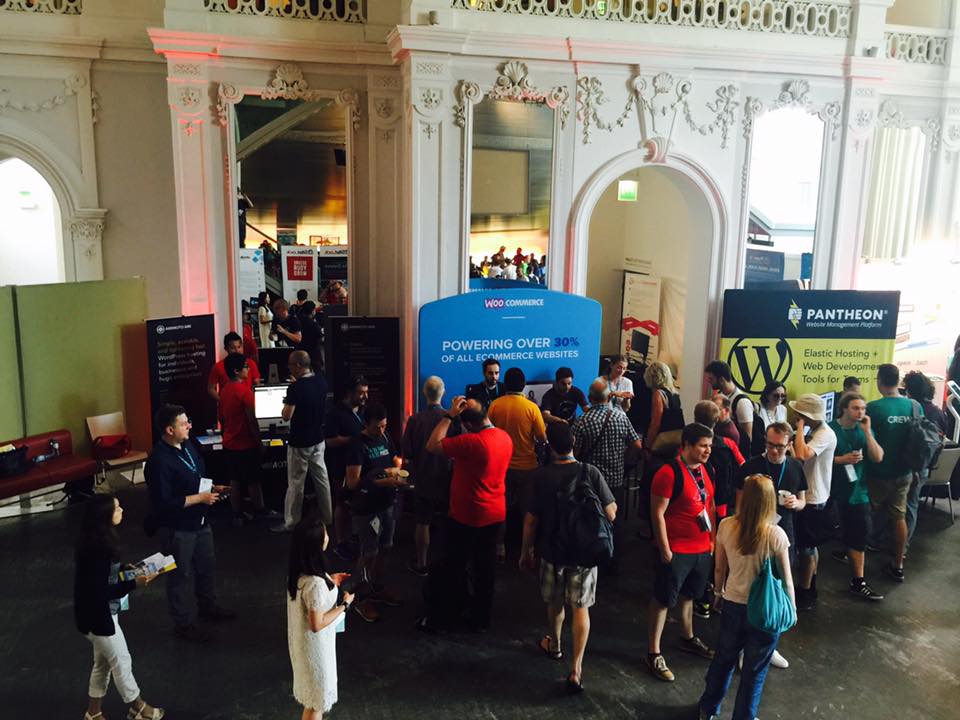 It was great meeting new people at our sponsor booth, and even during talks and coffee breaks.

There were contests, activities, demos and talks at different booths. Each one brings its own flavour and spark.
Find our Tatoo Wapuu at the stand too ! #WCEU pic.twitter.com/g4HHj51jT8

— Nicolas JUEN (@Raherian) June 24, 2016
Both days were filled with a variety of sessions, lightning talks and activities such as speed networking.
On the night of Day 2, the WordPress community dressed up, put on masks and bow ties and got geared up for the most-awaited WCEU ball!

Ready for the #WCEUball 🙂 #WCEU pic.twitter.com/Dhdp1y1SAj

— WP Serbia (@WPSerbia) June 25, 2016

The dance floor glows with neon lights, electrifying energy, laughter and good vibes from folks dancing to the beat of the music and singing our hearts out to the tune of Queen's Bohemian Rhapsody.

Day 3 was Contributor Day with rooms dedicated to Core contributions, Rest API, Theme review, translations, marketing, accessibility, TV and a lot more.
WordPress Polyglots at #WCEU contributor day, translating to so many languages! Thank you for coming! ❤️✨ pic.twitter.com/bGvnfTIBYI

— WordCamp Europe (@WCEurope) June 26, 2016
The Community
Photo by Florian Ziegler
WCEU is a community that is based on mutual interest, understanding and trust.
It's a place where communities from around the world unite. It's a place where everyone is welcome, where everyone can feel at home.
There is always a smiling face welcoming a new comer, meeting old friends and making new ones. It's where we can learn, share and hang out with each other from different backgrounds.
As we dim the lights for WCEU 2016, a spotlight shines on the one that follows a year later – WCEU 2017 at Les Docks de Paris!
Thank you WCEU, we hope to see you again.