Elasticommerce Related Item Service is high precision item recommendation service, powered by full text search engine, Amazon Elasticsearch.
You can search products' relevancy and tune their degree.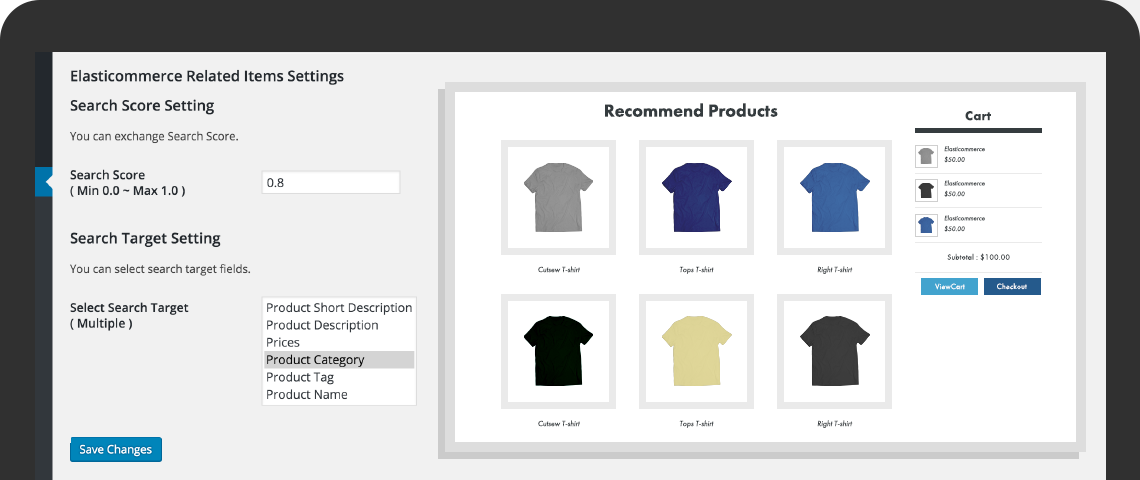 Overview
High Precision Item Recommendation Service
Robust search engine and item recommendation service tuning.
Learning System
By learning customers' purchase and search history, it can recommend items based on their previous buying patterns and searches. (※ coming soon)
Easy Relevance Tuning
You can tune up item relevance and its score on the dashboard.
Less clicks, less worries
Simply enable Elasticommerce Related Item Service plugin on WordPress Dashboard. We adopt fixed costs, so you can make budget plans. You can start the service anytime, anywhere.
This Service's Solutions
Elasticommerce Related Item Service will not only find relevant items from the category tag by utilizing the Elasticsearch, but it is also possible to find relevance from product descriptions and explanations statement, price and trade names.
Elasticsearch can quantify associations, and you can tune item relevance.
Developers' Comments
WooCommerce's related items are dependent on "items listed in the same category" or "items with same tags".
However, the true "related items" should be chosen from the relevance of the entire page, including description and title.
"Elasticommerce Related Items Service" is not only the expansion of search target, but also enables a more accurate recommendation by allowing the tuning of search target and search accuracy.
We aim to improve search accuracy in the future by using purchase history and untargeted data.
For more details