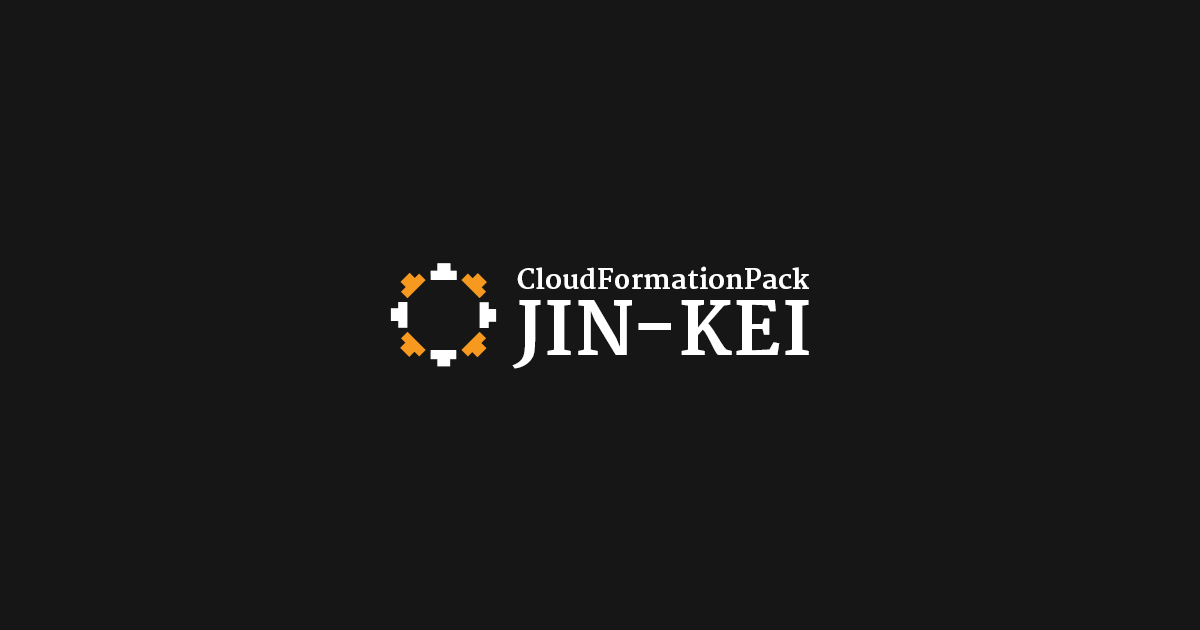 The inspiration behind the creation of JIN-KEI CloudFormation is to make our customers' lives easier and make their deployment faster.
JIN-KEI CloudFormation pack is a useful, time-saving tool optimized for WordPress that provides robust infrastructure tailored for various needs.
JIN-KEI CloudFormation allows users to quickly set up WordPress with necessary AWS tools in just a few clicks. WordPress will be complete with RDS, CloudFront and AutoScale.
WordPress-optimized & User-friendly Setup
These WordPress-optimized templates on AWS make WordPress faster, easier, with zero failure.
With few typing and clicks, you can build infrastructure for bigger sites. In addition, CloudFormation is already pre-installed for your convenience.
No extra cost
WordPress infrastructure for enterprise can be built without extra fees.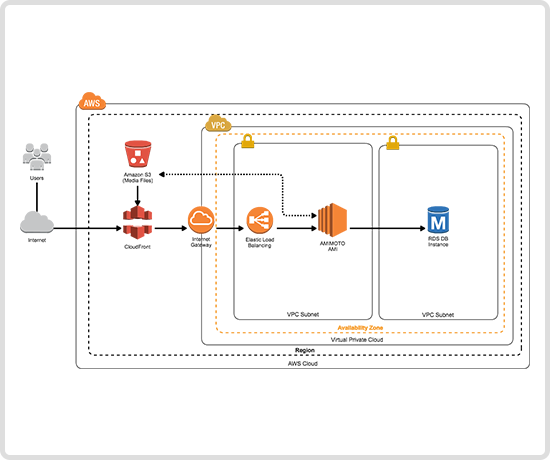 Simple AWS CloudFormation JIN-KEI that provides powerful infrastructure.
Added to AMIMOTO AMI infrastructure template are CloudFront (CDN), S3 and RDS.
CloudFront delivers low latency access from anywhere. RDS and S3 reduces the load on the instance and makes it easy to recover in the event of server failure.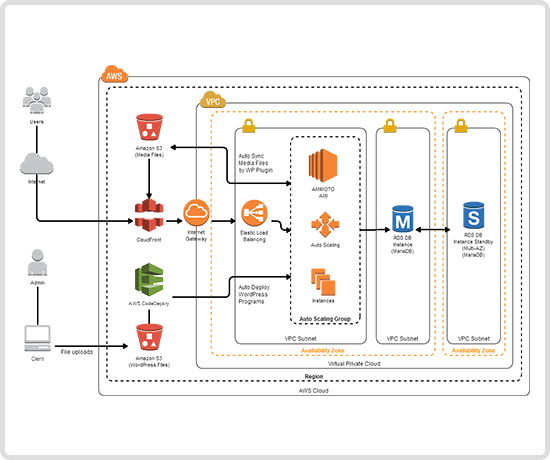 This template includes necessary tools such as AutoScale (automatically scaling your server to meet high traffic demands), CodeDeploy (deploys codes to autoscaled sever), and much more.
With a sturdy infrastructure template, hassle-free and zero failure WordPress sites are easily achieved.
CloudFormation JIN-KEI Solutions
This template already provides tools to build a powerful environment for WordPress. It helps reduce development time, makes deployment easier and faster.
JIN-KEI CloudFormation template allows even beginner users to take full advantage of all the services AWS provides. This way, WordPress sites of all sizes can benefit from the necessary features provided by CloudFormation JIN-KEI, and use AWS services to its full capacity. WordPress operation becomes hassle-free, with zero failure.
Developers' Comments
CloudFormation JIN-KEI saves a lot of time and resources in creating an environment optimized for WordPress.
Depending on the site size and needs, there are two templates such as AMIMOTO Simple Stack that delivers low latency and easy recovery. On the other hand, AMIMOTO AutoScale Stack is well-suited for large-scale and huge enterprise sites. Both templates quickly provide WordPress environment in a few clicks.
For More Details