A template for providing a durable environment ready to deploy directly from AWS Marketplace
SUMMARY:
WordPress Powered by JINKEI (Simple Stack HHVM) is a cloudformation template optimized for WordPress.
It provides the necessary tools for your WordPress site making it reliable and high performance during high or low traffic.
With 'one-click launch' deployment option, this template is a time-saving tool that is easy to initiate. By only paying for what you use, it cuts down costs and unnecessary resources.
PROBLEM:
Creating a high performance environment for WordPress sites requires tech skills that consumes development time and resources. It can be costly to create durable and quick environment.
SOLUTION:
After the launch of AWS Marketplace Support for Clusters and AWS Resources, our team started working on Cloudformations for both WordPress & WooCommerce Powered by AMIMOTO.
At AWS Clusters Page, AMIMOTO has two Cloudformation listings:
WordPress Powered by JINKEI (Simple Stack HVM) and
WordPress powered by JINKEI (Simple Stack MOD_PHP) respectively.
We're inspired by our customers. That's why we created JIN-KEI CloudFormation to make our their lives easier and their deployment faster.
JIN-KEI CloudFormation is a time-saving tool optimized for WordPress that provides robust infrastructure tailored for various needs.
In just a few clicks, users will be able to quickly set up WordPress with necessary AWS tools. WordPress will be complete with RDS and CloudFront.
When you're putting puzzle pieces together, you check what goes well with each other. Then when you finished arranging your puzzle pieces together, you will see the complete design.
This is much like cloudformation – where its components are like puzzle pieces put together to create one template.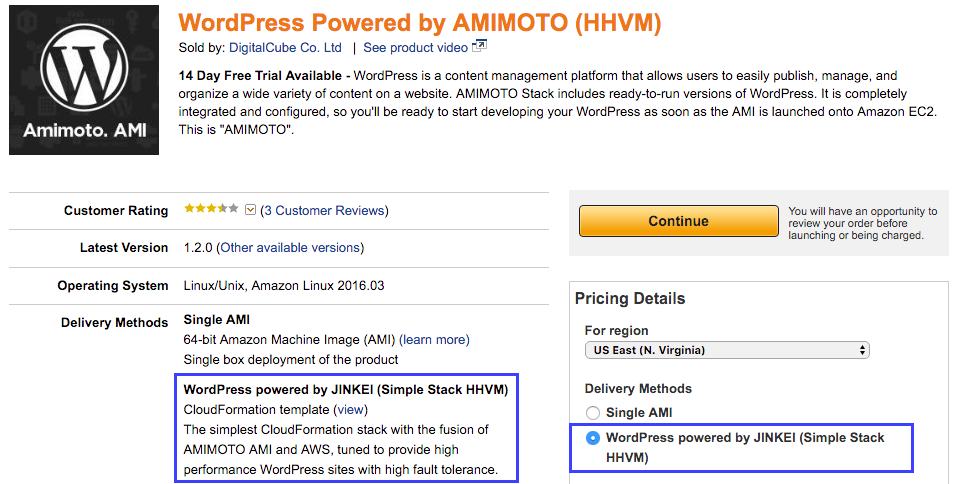 This CloudFormation stack provides high performance WordPress. By saving data from DataBase to RDS and saving media to S3, you can recover WordPress from server failure.

CloudFront is installed in front of the site to help reduce server load and let it correspond with lower latency to same time overseas access.
Using AMIMOTO AMI (HHVM) in the stack provides finely tuned WordPress for EC2, allowing easy and robust WordPress infrastructure development capable of large-scale site operations.
"Today, WordPress powers a quarter of the web. Websites will be more reliable and easier to deploy with cloudformations optimized for WordPress. This tool helps make the web's future beautiful."
GETTING STARTED:
Follow this step-by-step guide: WordPress Powered by JINKEI (Simple Stack HHVM) Setup Guide
"I learned about WordPress Powered by JINKEI (Simple Stack HHVM) when I was looking for ways
to make my site more high performance.
This cloudformation template has all the tools I need.
At the beginning I thought starting it would be difficult,
but with an easy launch option, I created a powerful environment in just a few clicks."